Shooter: Showdown PvP Shooter Zürich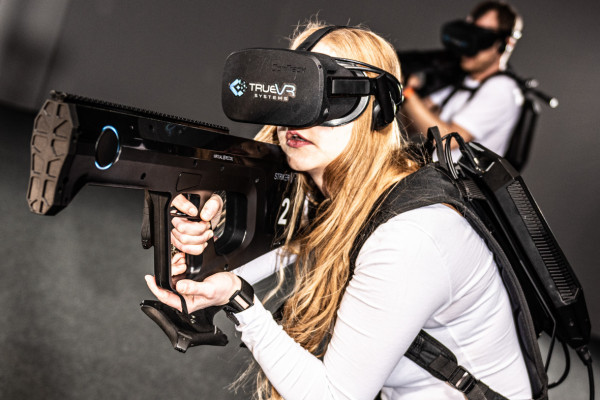 Prove your skills at your competitive shooter "Showdown" from TrueVRSystems. Do you have the reaction times necessary to score best?
[player] 2vs2 or 3vs3 players
[flag] Pure play time in VR goggles is 25 minutes
[heart] 4D effects of wind
[weapon] Assault rifle and sniper rifle with force feedback
Score system with results per player and per team
Multiple floors, many barriers and covers
A group of 4 persons costs 199.60 CHF
A group of 6 persons costs 399.20 CHF
Included

A single round for 4 or 6 players

Duration
20 Minutes
Bring along

Shoes: Sneakers/Running Shoes mandatory
Confirmation: You'll get an email confirmation with an electronic ticket. Per booking one person needs to be able to show the ticket on request, digitally or as a printout.

 
Further information
Short reaction times, precision and strategy are required to beat your opponent! The VR game "Showdown" is a "person versus person" shooter in a class of its own. Forget Laser-Tag, this is a game on a whole other level. Equipped with two different weapons, you will be divided into two teams and beamed into an abandoned military facility. The facility has 3 floors, where each floor stands for one game round. The goal is to hit your opponents as often as possible to leave the field as the winners. Once hit, you can heal yourself in your home base. Two elevator systems on the first two floors, as well as two teleporters on the third floor allow you to get into an elevated shooting position. Sweat and adrenaline are guaranteed.
know betterbook bettergo better
TripAdvisor Traveler Rating
67 Reviews