Party Bookings Zürich Letzipark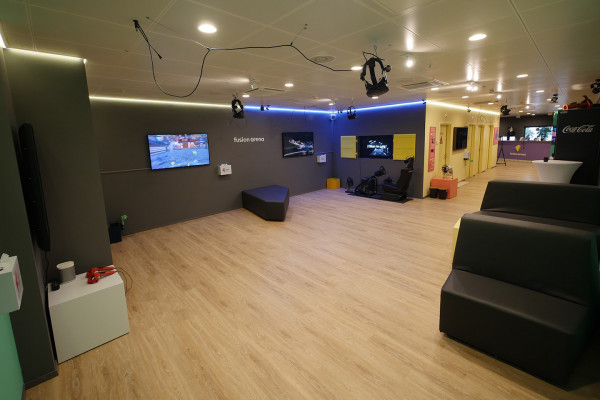 You'd like to book a Private Session at fusion arena? No problem. No matter if it's your company event, bachelor(ette) party, birthday or club event, we're sure we have something exciting to offer for you!
Full exclusive access to the Fusion Arena
Up to 10 players can simultaneously play one or two games
Enjoy your apéro in the 150 sqm lounge area
3 additional VR stations with 20 mini games are available
Included

Depending on the group ticket 10-40 players, 45minutes to 3 hours of event time.

Not included

Apéro und Getränke

Bring along

Shoes: Sneakers/Running Shoes mandatory
Confirmation: You'll get an email confirmation with an electronic ticket. Per booking one person needs to be able to show the ticket on request, digitally or as a printout.

 

Important information

Arrival: Your ticket time is your entry time.
Further information
Our goal is to make your event an unforgettable experience. We have a modular infrastructure and can tailor the event to your needs.
You'll get a first impression of our offering by watching our video: Group Bookings in Fusion Arena und the team building Adventure Game "The Water of Eternal Life".
With up to 10 players at the same time we'll send you on a mission in the Fusion Gate Universe where a special forces unit of the Swiss Armed Forces goes on exploratory missions to other planets by means of the Fusion Gate. We have something for every taste: Adventure (violance free), Shooter and a crazy virtual escape room.
This is what we offer
You can use all games in the fullbody VR arena: Throughput is around 30 minutes for 10 players.
While 10 players are having fun in the arena, the rest of your group can enjoy our catering of play games in the lounge
For bookings 80 minutes and up: The VR Lounge offers 5 stations with over 20 games. Each station has a screen that shows what the person in VR is experiencing. A great spectator experience.
The lounge area is multifunctional with sofas to sit, bar tables and chairs and offers seating for 15 people and high tables for 30 people.
Catering: We offer a great variaty of catering options for your event, our offering you'll find here.
know betterbook bettergo better
TripAdvisor Traveler Rating
67 Reviews